How to use
About Shibunkaku Sale
Shibunkaku Sale is our original quarterly silent sale to bid on and buy art and antiques. Taking advantage of our client base of over 10,000 art and antique collectors, we are privileged to offer high-quality Japanese art and antique pieces to you before these go on the regular market. The silent sale format allow both buyers and sellers to achieve consistently satisfactory result.
At Shibunkaku Sale, we select and valuate works on consignment based on our specialists' thorough investigation. With a sales ratio of more than 90%, Shibunkaku Sale in the past has been exceedingly well received and continues to provide an exciting bidding experience.
Preview and Online Bidding
September 5-11, 2022
Bid-closing Date
17:00 JST, September 11, 2022
Authenticity Guarantee System
Shibunkaku Sale places highest priority on the authenticity of our works. For works by many artists from the Meiji period onwards, we rely on a network of trusted authenticators and authenticating organizations that serve the Japanese art market. Shibunkaku provides a list of recommended authenticators and authenticating organizations for works included in the sale. In the unlikely event that artworks purchased at this sale have been submitted to any authenticator or authenticating organization included in the list provided, and have been found to not fulfill the standards of a work regarded as authentic, we will cancel the purchase and reimburse all payments including any authenticating fees (please note that fees for authenticity certificates are charged to the customer if authenticity is confirmed).
Shibunkaku's specialist staff conducts a thorough examination of all work by artists for whom no authentication service available from the list provided, and will select for the sale only those works that fulfill highest standards.

Lot Condition
While we strife to correctly indicate all relevant information about a work's condition, we cannot in all cases guarantee a perfect condition even if there is no particular mention of damages in a work's description. It is therefore recommended to inspect prospective purchases beforehand during the preview period. Should it be difficult to visit the preview location, we will issue a condition report upon request.
Please use the inquiry form for requesting a condition report.

How to Bid
1. Placing a Bid
Kindly complete and submit the Bid Form before the Bid-closing Date. A confirmation email will be sent to the email address indicated in the Bid Form. Please check your email inbox for the bidding confirmation. Shibunkaku will not process any Bid Forms that are incomplete or filled out incorrectly. Please make sure to enter the correct bid price. Bids below the low estimate will not be considered. We will not accept any bids via phone or email. Please inspect the condition of any works, including its coloration and presence of any damages, in person at the preview. Our specialists are happy to provide you in-depth condition reports on any item of your interest if you are unable to visit and view. Kindly contact us should you require any assistance.

Bidding fees
Kindly note that we charge a buyer's premium for each item purchased in addition to the bid price. This is calculated at the flat rate of 20% on the bid price up to 1 million JPY, and at the rate of 15% on the amount of the bid price exceeding 1 million JPY. (please refer to examples below). The buyer's premium is subject to the VAT at the standard rate of 10%.


Example 1
Bid price:
JPY 500,000
Buyer's premium (20%):
JPY 100,000
VAT on buyer's premium (10%):
JPY 10,000
Total:
JPY 610,000
 
Example 2
Bid price:
JPY 3,000,000
Buyer's premium on first JPY 1,000,000 (20%):
JPY 200,000
Buyer's premium on remaining JPY 2,000,000 (15%):
JPY 300,000
VAT on buyer's premium (10%):
JPY 50,000
Total:
JPY 3,550,000


You may change your bid amount or retract your bid before the Bid-closing Date. Navigate to "Bid History" on the "My Page" section of this site to update your bid. We will not accept change or cancel requests via phone or email, or any changes requested after the Bid-closing Date.

2. Bid Opening
Bid price and winning bids will be determined during bid opening. Bid Opening is scheduled for September 16, 2022 and is not open to the public. The successful bid is the bid with the highest bid price for any given lot. In the case of multiple highest bids of the same price the successful bid is the earliest bid in our records. Bids are invalid regardless of the bid price if they are received after the Bid-closing Date and if the lot in question has already received other bids.

3. Sale Results Notification
We inform all bidders of the sale results by mail, regardless if their bid was successful or unsuccessful. Sale results will also be posted to our website. Please verify the address you indicated in the "Invoice Form" or "Sale Lot Collection Form" during registration is current and correct. Kindly note that bids cannot be retracted after the Bid-closing Date. However, under exceptional circumstances, we allow bid retractions on a penalty of 20% of the bidding price of the lot.

4. Payment
Successful bidders may make their payment until September 26, 2022 via wire transfer, cash payment at our gallery or with credit card. Kindly note that wire transfer fees are at the expense of the buyer. In case of cash payment at our gallery, please contact us before visiting. Shibunkaku accepts credit cards by VISA, MasterCard, JCB, American Express, Diners Club, Discover, and Union Pay.

5. Shipping/Collecting your Item
Once your payment is confirmed, we will arrange the delivery of the works for you. If your shipping address is in Japan, we will mail your parcel to this address unless otherwise requested. Shipping cost inside of Japan is covered by Shibunkaku. In general, we do not deliver overseas but upon request will provide contact to an international shipper via whom arrangements for international delivery can be made. International delivery is wholly the responsibility of the buyer. Shibunkaku will not cover any costs for or related to international delivery.

Items with parts made of ivory, coral or feathers cannot be shipped overseas.

Please contact us in advance should you prefer to collect your items in person at our gallery. Kindly bring your "Sale Lot Collection Form." If you made your payment through wire transfer, please also bring your wire transfer confirmation receipt.

Notes
1. Buyer's premium:
In addition to the bid price, a buyer's premium and taxes on the premium will be added to the total amount.

2. Kindly note that bids cannot be retracted after the Bid-closing Date. However, under exceptional circumstances, we allow bid retractions on a penalty of 20% of the bidding price of the lot.

3. Please refrain from submitting any bids unless you are certain you want to purchase the work. Any attempts at manipulating the price, regardless of the methods used, are against the law and we reserve to right to take legal action to counter such activities.

How to Use This Site
Registration
To use this site and participate in Shibunkaku Sale please first create a profile.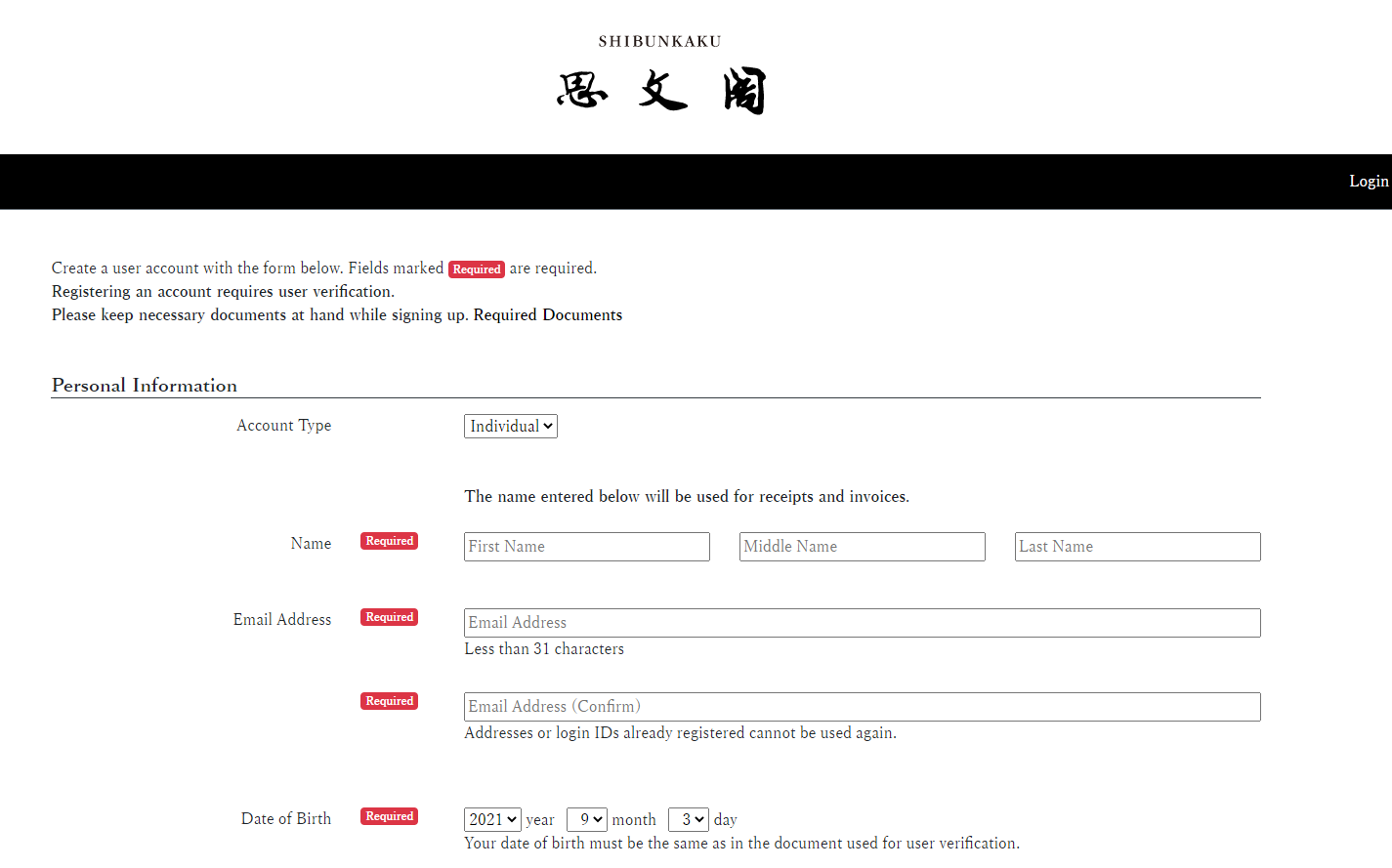 1. Fill in the required fields and acknowledge you have read and understood the "Membership Terms and Conditions" and "Privacy Policy." Check the field "Agree" and click "Confirm."
2. Check and confirm your information. In order to participate in Shibunkaku Sale, we require a proof of identity such as a copy of your passport. In case it should not be possible to provide a proof of identity or we cannot verify your submitted document you will not be able to participate in the sale. Please use the "Choose file" button to upload your document, then click "Register."
3. Check the confirmation email in your email inbox and click the link provided. Enter the password and click "Signup." Membership registration is then complete.


How to Bid
1. You may explore our site and search for works of your interest using various features on the site during the preview time.





2. After registration and login, bids can be submitted on the work's detail page. The bid price must be equal to or greater than the low estimate. The bid increment is JPY 1,000. Enter your preferred bid price and click "Add to Bid Form."





3. On the "Bid Form" page, the form will indicate the number of selected works in the "Bid Form" link on the upper right. If you want to bid on multiple works, click "Search Lots" to search for other works.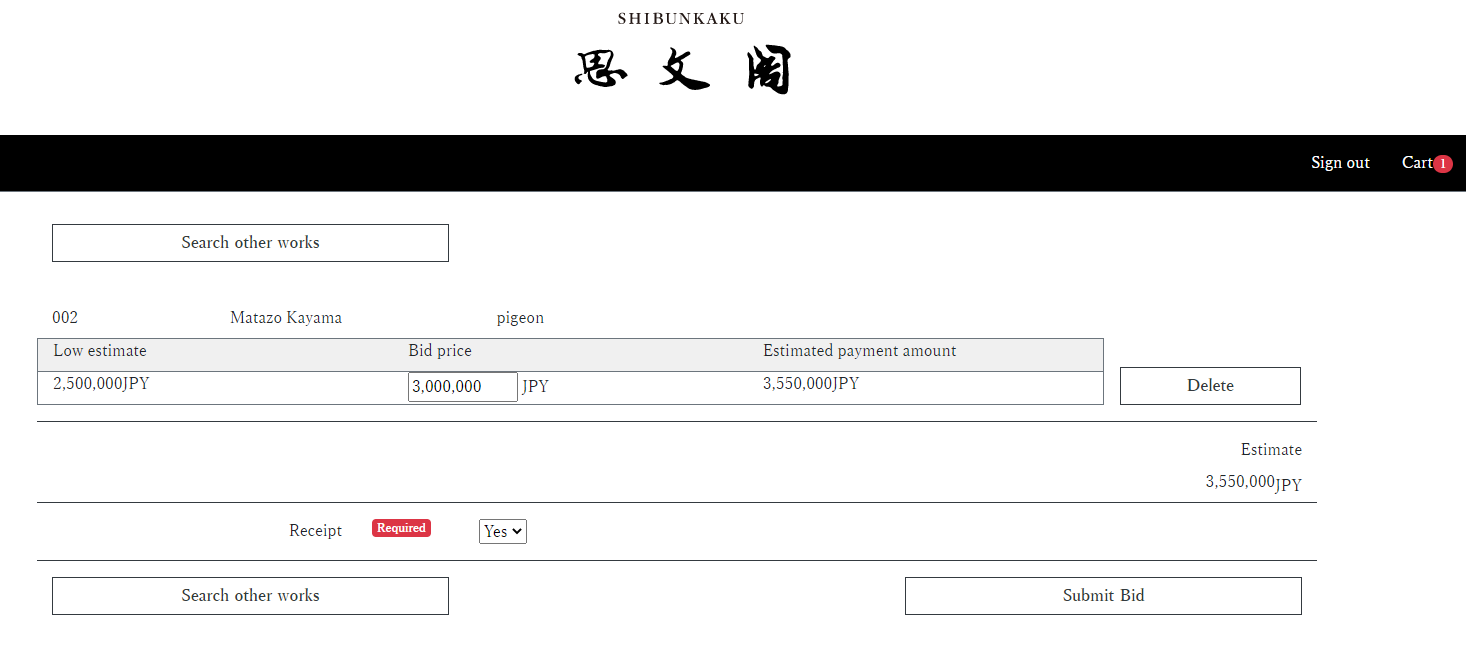 4. Indicate if a receipt is required, your method of delivery and your shipping address. The shipping address can be changed on "My Page." For buyers above the age of 80 at the time of the sale, please provide the contact information of a co-signer. Check your selection and the information provided and click "Proceed."





5. On the confirmation page, check if everything is correct and read the "Shibunkaku Sale Terms and Conditions" and the "Consignment Agreement." Check "Agree" and click "Bid." Use the "Return" button to return to the input screen.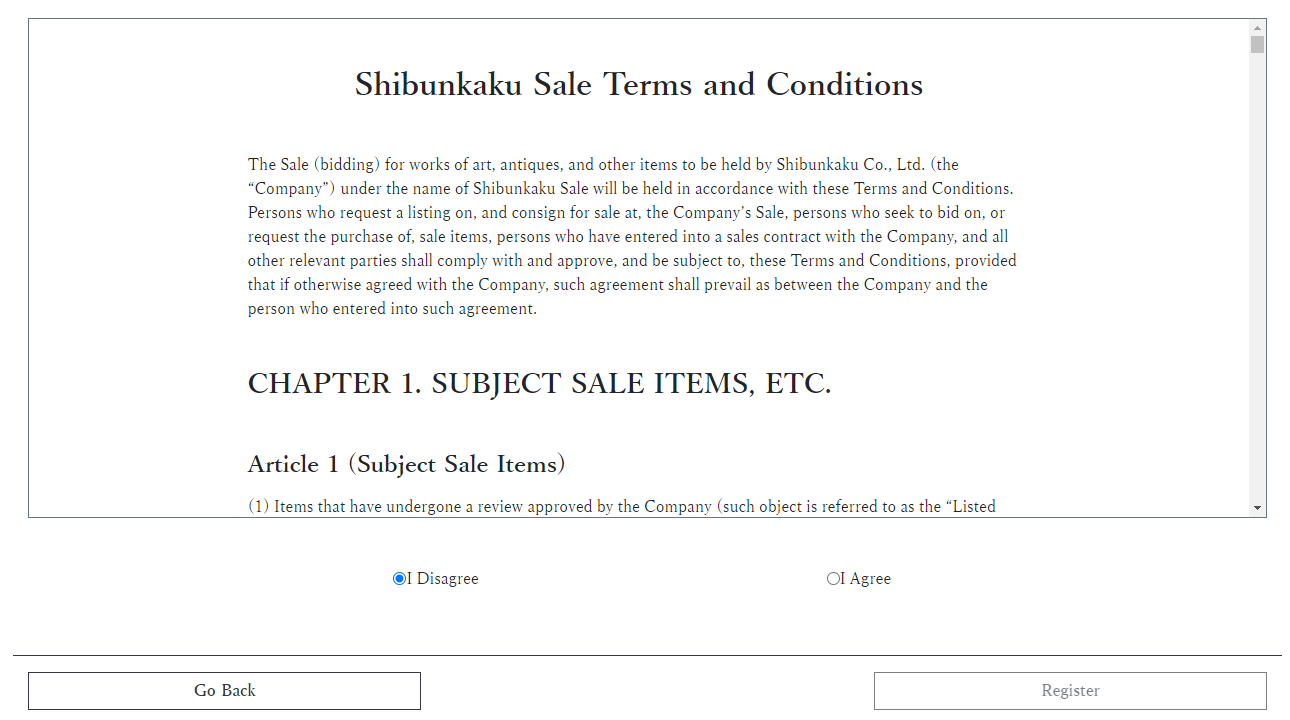 6. After clicking "Bid," the page redirects to the "Bid Completed" screen. Please check the confirmation email that is automatically sent to your email address. If you haven't received the confirmation email please contact us at nyusatsukai@shibunkaku.co.jp.
Changing Bid Price, Cancellation
Change or cancellation of a submitted bid is only possible during the bid period. Please use the "Bid History" link on "My Page."





1. Login, then navigate to "My Page," using the link on the upper right.
2. At the bottom of the page, click "Bid History."
3. For the work for which you want to make changes, click "Change."
4. Enter desired price in the corresponding field if you want to change the bid price and click "Next." If you want to cancel the bid click "Cancel."
5. On the confirmation screen, click "Bid" or "Ok."